Trend Watch: Yellow
It was bound to happen. Minimalism. Normcore. Stripped-back, no-fuss, grey-white-and-black fashion. It couldn't last forever. Of course, color was never truly dead (even if it might have felt that way). There were always people, designers and brands that continued to embrace it. And now, it looks like a burst of light is about to make its way to the masses thanks to a selection of designers at New York Fashion Week who are embracing the color with full force.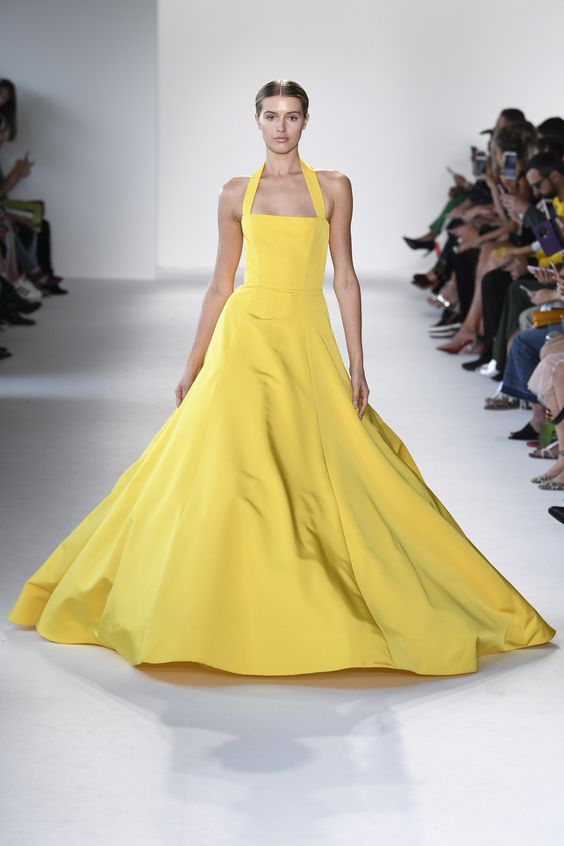 Sophisticated and timeless, Siriano takes yellow and transports it to an entirely different dimension. Who wouldn't feel like a modern day Cinderalla shooting on a star in a floor sweeping golden gown? It is what dreams are made of. The straight necklines feel a bit nineties, the fitted bodies and delicate tied shoulder straps remind me of Cher's Calvin Klein dress, and yet it all maintains a very modern sensibility thanks to the touch of unexpected proportion play. It's yellow. It's bold. It's big. And yet, it feels doable.
Youthful. Feminine. Unexpected.
Tibi, by contrast, presents yellow in an entirely wearable way. Yes, it is still YELLOW (and a lot of it) but it's yellow that you, or I, or even our moms might wear. Why not wear yellow denim shorts that reach towards your knee next summer? Why not swap your black slacks for a yellow pair at the office? The subtle variation in hue makes it easier to digest and the best thing is these separates work just as well together as they would paired with a denim jean or a white tee. Tibi is for the modern woman. Sometimes she wants to make a big statement and sometimes she doesn't. But either way, she wants to look (and feel) effortless. She will in these clothes.
If you're a bit skeptical, take your cue from the fashion elite. Pops of yellow are already visible on the streets of NYC this fashion week. And, we all know, if it's happening in street style then it's going to be happening in a store-near-you soon.
How long though until head-to-toe makes an appearance?
I, for one, can hardly wait.